Which climate-related risks must stakeholders in development cooperation expect in the coming years? INFRAS has identified regional and global hotspots on behalf of the Swiss Agency for Development and Cooperation (SDC) and summarized these in factsheets.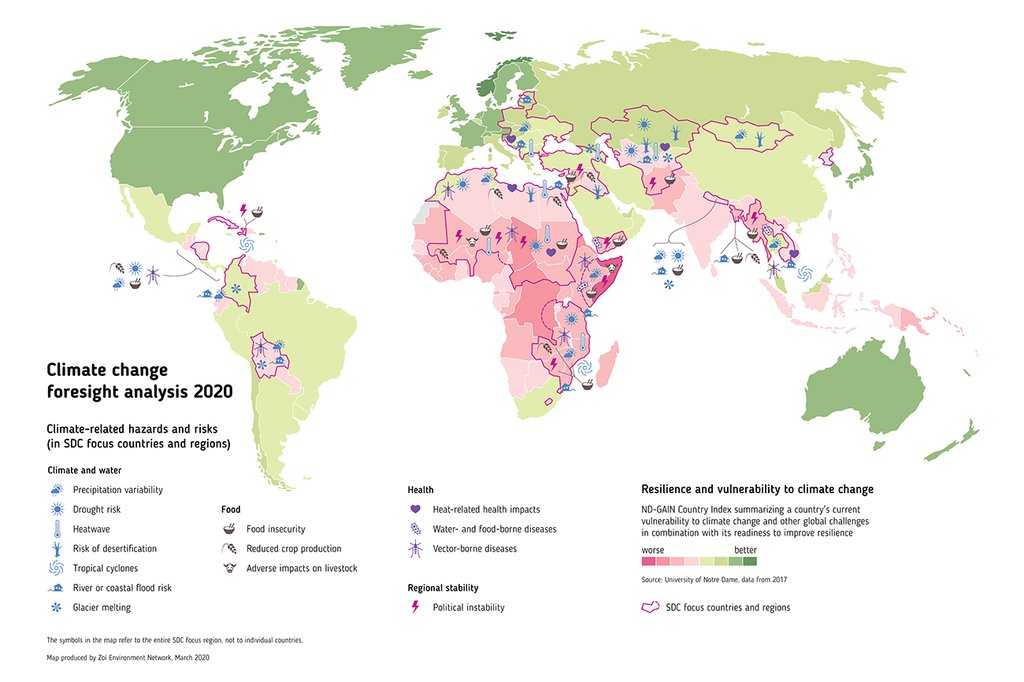 Climate change confronts development cooperation with large challenges. In order to be successful, projects must increasingly include climate-related risks in their calculations. INFRAS identified global and regional risks as well as hotspots on behalf of the Swiss Agency for Development and Cooperation (SDC). The paper "Climate change foresight analysis" describes clearly and concisely the climate-related risks that stakeholders in development cooperation will have to consider in their programs in the short and medium term.
Factsheets on global risks and hotspots
The paper analyzes the current developments and identifies possible trends in the coming one to three years. The thematic areas climate change, water, food, health, and regional stability are the focal points. Short factsheets evaluate climate-related risks for seven areas of emphasis for development cooperation:
Middle East and North Africa
East and Southern Africa
West Africa
Western Balkans and new EU member states
South Asia and South East Asia
Central Asia and South Caucasus
Latin America and the Caribbean
Experienced events permit the assessment of trends
Concrete prognoses on short and medium-term climate related risks are nearly impossible. Experienced events allow some degree of trend assessment: past or current extreme weather events can result in the affected region suffering under the consequences in the long run – thus making it more susceptible to long-term climate-related risks. For example, extreme drought period in the Sahel Zone (2018/2019) or the hurricane "Dorian" in Haiti (2019) resulted in the situation that these regions were weakened when faced with future extreme weather events.
Comment on study
The study reflects the state of knowledge at the end of the year 2019. Developments after the beginning of the year 2020 are not included in the analysis. Among these are, for example, the (expected) economic and social effects of the corona pandemic or the grasshopper plague in Eastern Africa. We expect that the vulnerabilities of some countries and regions could be accentuated due to these events.
Further information
Project team